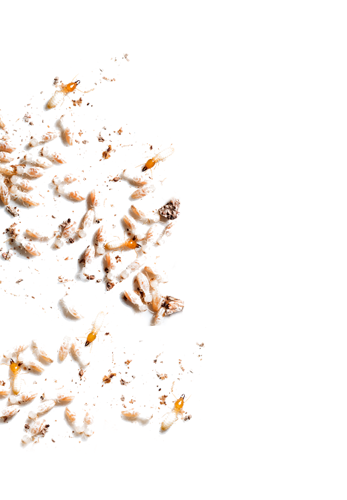 Wood-destroying insect inspection add-on services.
Don't let pests destroy your nest.
Wood-destroying organisms (WDOs) are destructive property invaders with unsavory habits that can do serious damage to your property. While termites are the most infamous, they are not the only ones, and each type of leaves its own unique trail.
With more than 6,000 inspections in the Tulsa-area under our belts, our pest inspection professionals can spot the signs of termites and other wood-destroying insects. We are fully licensed, so you don't have to turn to a 3rd party vendor. We're also supported by state-of-the-art, non-invasive technology which we use to locate moisture that can lead to pest activity. Don't let a pest wreck your nest—schedule a termite and pest add-on inspection with us.
Our process and what we inspect.
The three most common wood-destroying organisms (WDOs) in Tulsa and the surrounding areas are termites, carpenter ants, and carpenter bees. Termites actually eat wood, so they are the most destructive WDO, but carpenter ants and carpenter bees can do serious damage too, as they burrow into wood to build their nests. To make sure your home or commercial property hasn't been invaded by termites or other WDOs, we look for the following issues during our pest inspections.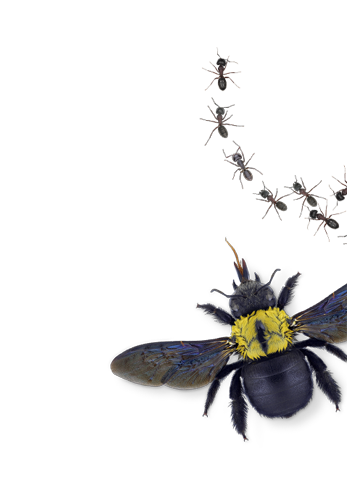 Wood-destroying insect inspection add-on prices.
$115 – $130+
Let our termite and pest inspection experts spot signs of termites and other wood-destroying insects when you add a wood-destroying insect inspection to your services. You can also add other services such as mold, structural, sewer system, pool and spa, sprinkler system and more. View our pricing or reach out below or via call or text at 918.853.5113, to discuss your needs and get your free personalized quote.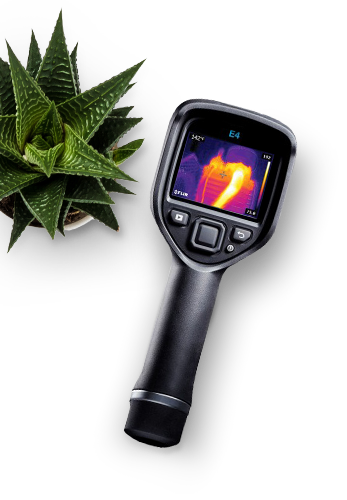 How we find issues others might miss.
Using state-of-the-art thermal imagers, our professional termite and pest inspectors can locate moisture, a frequent cause of home invasion, by wood-destroying organisms like termites and carpenter ants.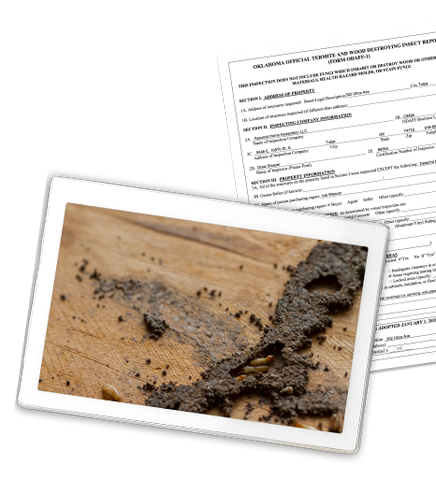 Every property is different, but after 6,000 inspections we've seen that these are the most common wood destroying organism and termite issues in the Tulsa area.
These ants have segmented bodies and make their home in wood which can cause significant damage.
In Oklahoma, we have subterranean termites. These eat cellulose and can cause significant damage.
Preferring unpainted wood, these bees make their nests by drilling holes.
See why customers love working with us.
Hired these guys for a home / termite inspection. They were very professional, thorough, and explained everything. The report they send after is great. He took pictures of every little thing we needed to address. So now I have a checklist with pictures! Another positive to mention is the thermal reader they use for all inspections, it really gave us some peace of mind purchasing an older home.
To know our inspector had that extra knowledge of what could be hiding behind a wall and may be missed by a basic visual inspection was a big plus when we were choosing one and I think it was the right choice!
See a sample wood destroying organism report.
Get the state ODAFF-1 form documenting any activity found or areas of concern observed delivered electronically the same day. We will go over it with you and answer any questions you have. We will also give you a brochure at the inspection showing you what to look out for in the future and explaining what to do if activity is found.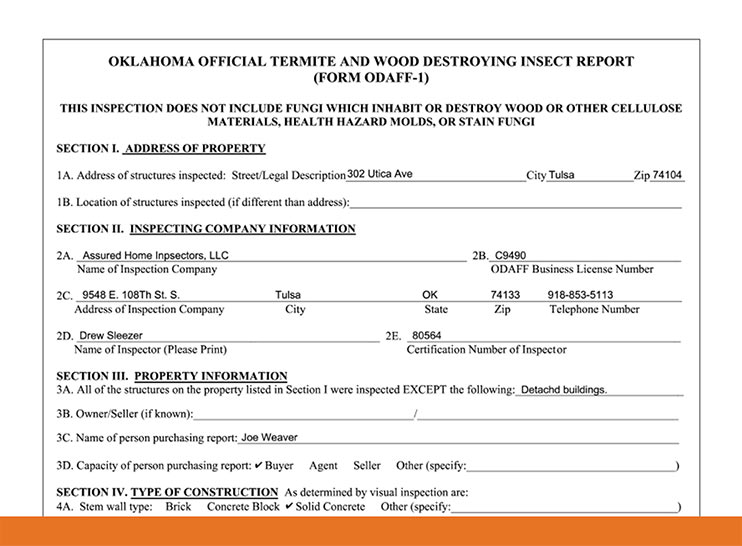 Create a repair list in minutes.
How to prepare for your termite or pest inspection.
Get more confidence. Add the following services.
For the utmost confidence and most complete inspection, we provide the following additional services.

Structural Inspection
Get the foundation for extra confidence and check the structural integrity of your home. Highly recommended for older homes and homes with any visible signs of movement or cracking.

Wood Destroying Insect Inspection
We will provide an ODAFF1 form after inspection which is frequently required by the lender.

Sprinkler Inspection
Don't let a convenient feature turn into a huge hassle. Save green and keep your lawn pristine. Let us check your sprinkler system to ensure proper operation.

Pool & Spa Inspection
Don't get drowned by costly repairs. Pools and spas are lots of fun but they can be costly and are a potential safety concern. Have us take a look so you know the current conditions.

Mold Testing
Don't let mold make you or your loved ones sick or damage your home. Highly recommended for homes with any moisture issues or suspicious staining.

Water Quality
Make sure your family's drinking water is clean and safe. Let us test the water so you know if action is needed. Highly recommended for properties with well water.

Air-Duct Inspection
Deteriorating air ducts can prevent proper operation and can be costly. A duct inspection detects crushed ducts, moisture intrusion, rusting, and deterioration before they become big problems.

Sewer-Line Inspection
Main sewer-line issues can be expensive. Let us check for root intrusions, standing water, and clogs. Highly recommended for older properties, those with a history of clogged drains or trees near drain pipes.

Septic System Inspection
Keep your home's septic system running smoothly. If your home is on a septic system, we highly recommend a septic inspection. We also recommend this as a routine inspection at least every two years.

Radon Gas Testing
Keep your family safe and make sure your home isn't at risk for radon gas exposure. Highly recommended for homes with basements.

Level-Two Fireplace Inspection
Don't run the risk of fire, smoke inhalation, or carbon monoxide poisoning. This comprehensive camera inspection is highly recommended for older homes, especially with wood-burning fireplaces.