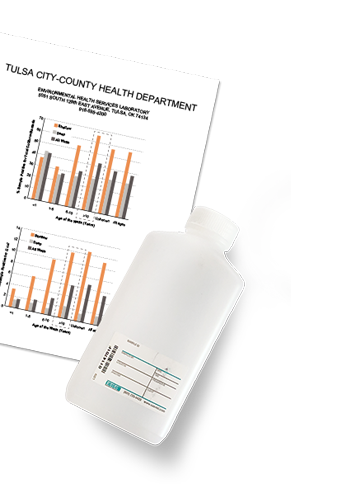 Water-quality testing add-on services.
Make sure your drinking water is safe and clean.
Your family or customers' drinking water is too important to take for granted. Our water-quality testing add-on services can determine the quality and safety of your drinking water by detecting bacteria and contaminants. We recommend testing the water of any property with well water or a water quality concern. Our most common water-quality tests are for bacteria, total dissolved solids, nitrate/nitrite, hardness, copper, and lead.
Whether you're purchasing an old home or suspect there may be a problem with your current home, this specialized, simple add-on inspection is an affordable way to ensure health and safety.
Our process and what we inspect.
During your add-on water inspection, our professional inspectors take samples of the water and send it to the lab to test for the contaminants you request. We offer several packages depending on your concerns.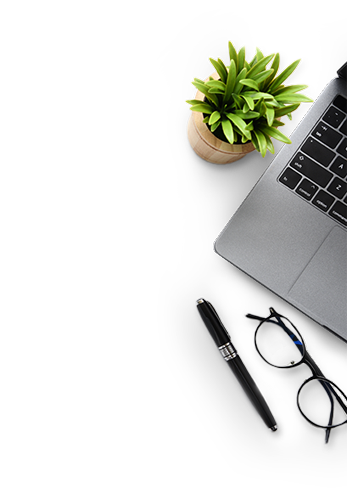 Water–quality testing add-on prices.
$225 – $550+
Ensure the quality of your drinking water and that it's free from bacteria and other contaminants when you add a water–quality test to your inspection services. Please click the see pricing button below to see the different packages we have available. Add a water-quality testing when you schedule your inspection, or call or text at 918.853.5113, to discuss your needs and get a free personalized quote. You can also add other services such as wood–destroying insects, structural, sewer system, pool and spa, sprinkler system and more.
Every property is different, but after 6,000 inspections we've seen that these are the most common water-quality issues in the Tulsa area.
Water sometimes contains disease-causing bacteria and viruses. It's important to get water tested to avoid getting sick.
Nitrates form naturally when nitrogen combines with oxygen or the ozone. Elevated levels in drinking water can be dangerous to your health.
Copper is frequently found in water and is safe at low levels but can be harmful at elevated levels. These typically occur when acidic water corrodes pipes.
See why customers love working with us.
If you are a buyer, then this is the company that you need to use.
They were exceptionally thorough and he went over every aspect after the inspection was done. This is not an inspector who will just let things fly in order to get the property closed.
See sample water-quality report.
Get a highly detailed, easy-to-understand water-quality report delivered electronically when the lab results are ready. If you have any questions, we can go over the report with you and answer any questions you have. We also offer the Create Request List feature which makes creating a TRR report seamless and easy.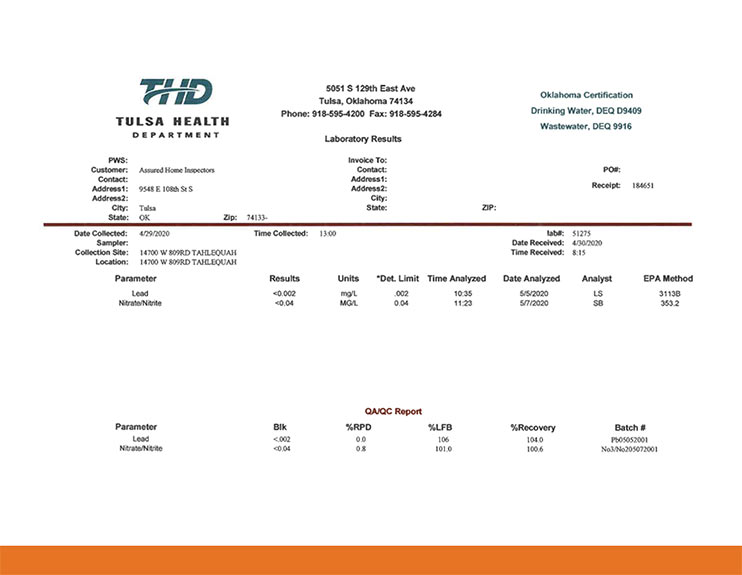 Create a repair list in minutes.
How to prepare for your water-quality inspection.
Get more confidence. Add the following services.
For the utmost confidence and most complete inspection, we provide the following additional services.

Structural Inspection
Get the foundation for extra confidence and check the structural integrity of your home. Highly recommended for older homes and homes with any visible signs of movement or cracking.

Wood Destroying Insect Inspection
We will provide an ODAFF1 form after inspection which is frequently required by the lender.

Sprinkler Inspection
Don't let a convenient feature turn into a huge hassle. Save green and keep your lawn pristine. Let us check your sprinkler system to ensure proper operation.

Pool & Spa Inspection
Don't get drowned by costly repairs. Pools and spas are lots of fun but they can be costly and are a potential safety concern. Have us take a look so you know the current conditions.

Mold Testing
Don't let mold make you or your loved ones sick or damage your home. Highly recommended for homes with any moisture issues or suspicious staining.

Water Quality
Make sure your family's drinking water is clean and safe. Let us test the water so you know if action is needed. Highly recommended for properties with well water.

Air-Duct Inspection
Deteriorating air ducts can prevent proper operation and can be costly. A duct inspection detects crushed ducts, moisture intrusion, rusting, and deterioration before they become big problems.

Sewer-Line Inspection
Main sewer-line issues can be expensive. Let us check for root intrusions, standing water, and clogs. Highly recommended for older properties, those with a history of clogged drains or trees near drain pipes.

Septic System Inspection
Keep your home's septic system running smoothly. If your home is on a septic system, we highly recommend a septic inspection. We also recommend this as a routine inspection at least every two years.

Radon Gas Testing
Keep your family safe and make sure your home isn't at risk for radon gas exposure. Highly recommended for homes with basements.

Level-Two Fireplace Inspection
Don't run the risk of fire, smoke inhalation, or carbon monoxide poisoning. This comprehensive camera inspection is highly recommended for older homes, especially with wood-burning fireplaces.