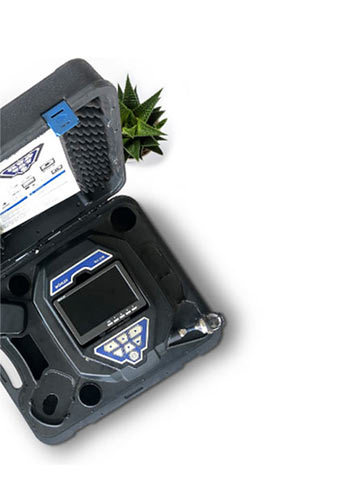 Infrared thermal imaging and state-of-the-art technology.
We catch issues others might miss, and find hidden surprises before they become problems.
With more than 6,000+ inspections performed in the Tulsa area, we take pride in our team's experience and professionalism. But no matter how experienced an inspector is, there are many potential issues that are invisible to the naked eye. Many home inspectors don't have the tools to spot these hidden issues. We do, and we put them to work for you. Our tools include infrared thermal imagers, fiberoptic endoscope inspection cameras, mold testers, drones, gas leak detectors, electrical meters, moisture meters, mobile devices and more.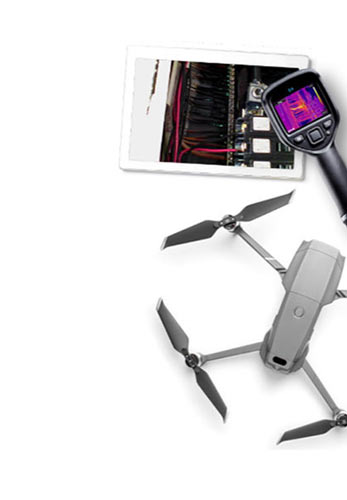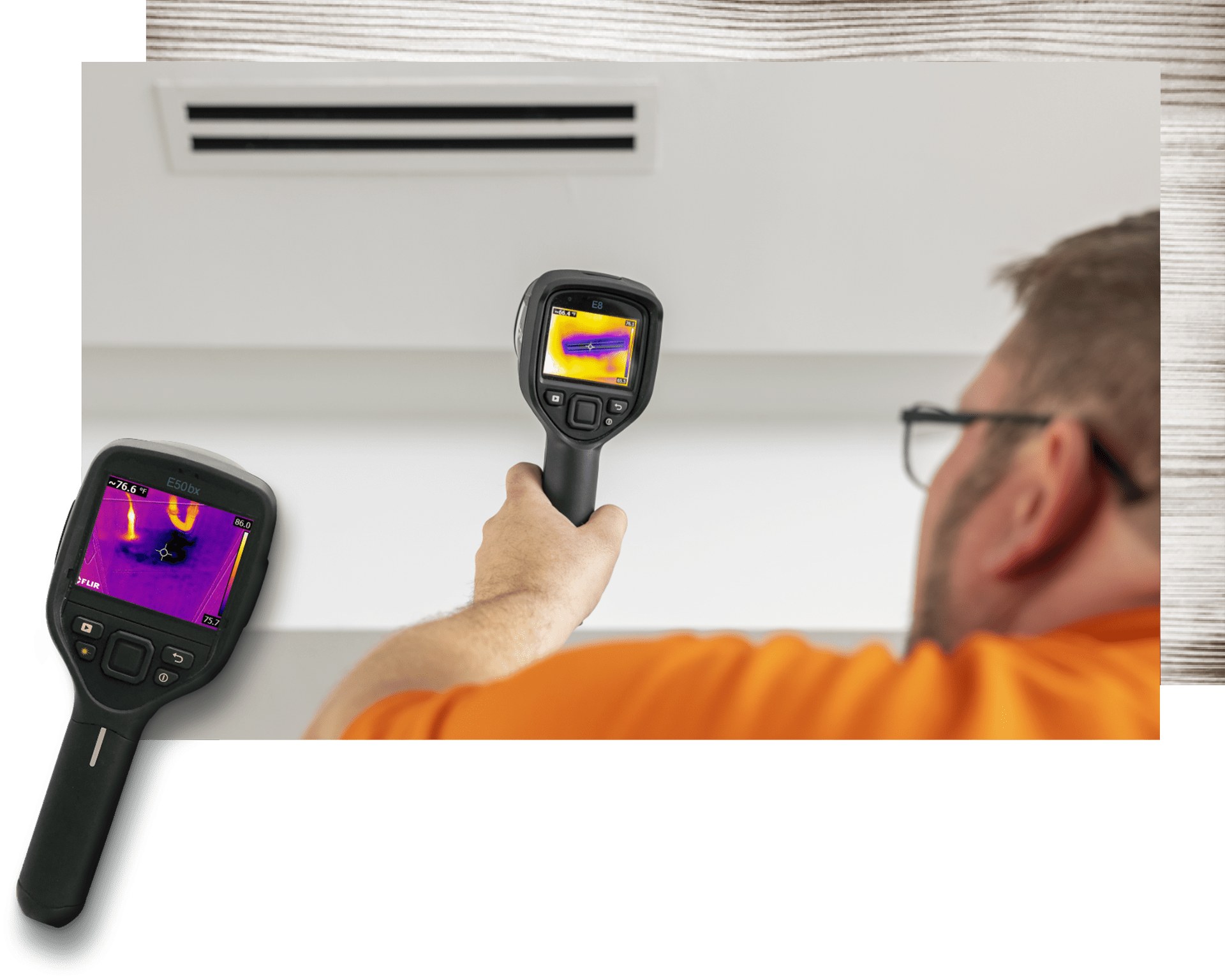 What infrared thermal imaging can find.
Each of our inspections includes infrared thermal imaging as a standard part of our service. This highly advanced, non-invasive technology reveals hidden parts of your home that can't be found using conventional methods. A room or home that appears to be fine may have several issues hiding behind the scenes, including moisture intrusion, energy loss, plumbing leaks, and electrical problems. Let us find these invisible issues before they become problems, so you can keep your family safe and make your decision with confidence.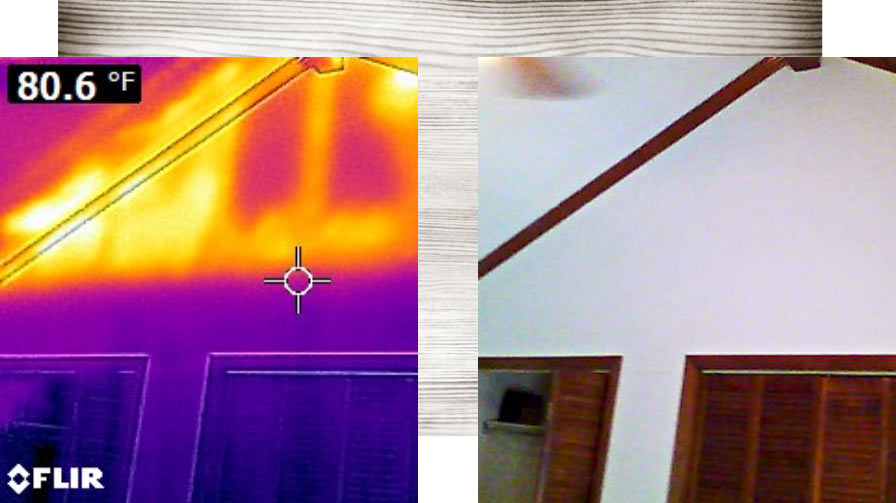 Heat loss and air infiltration in walls, ceilings, floors, windows and doors
Damaged and/or malfunctioning radiant heating systems
Air-conditioner compressor leaks
Under-fastening and/or missing framing members
Structural defects that can lead to energy loss
Broken seals in double-paned windows
Temperature differential
Plumbing leaks
Hidden roof leaks that can cause serious damage
Missing, damaged and/or wet insulation
Water and moisture intrusion around penetrations and at the foundation and building envelope that could lead to structural damage and mold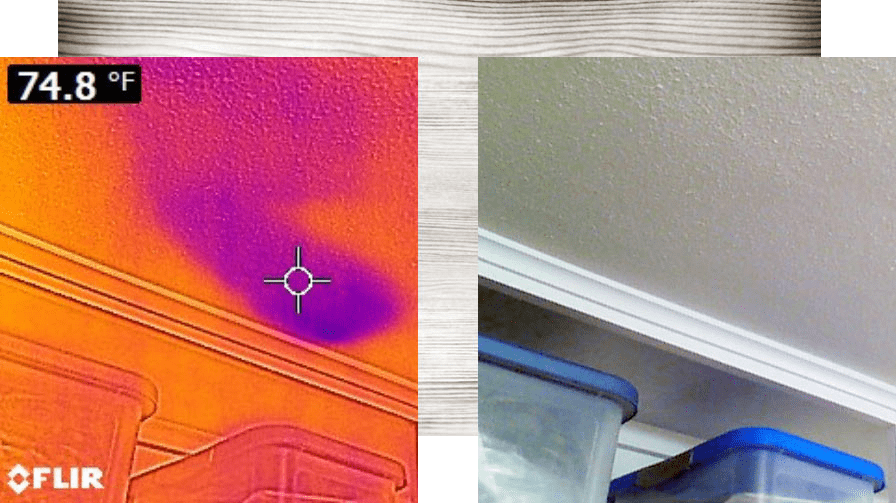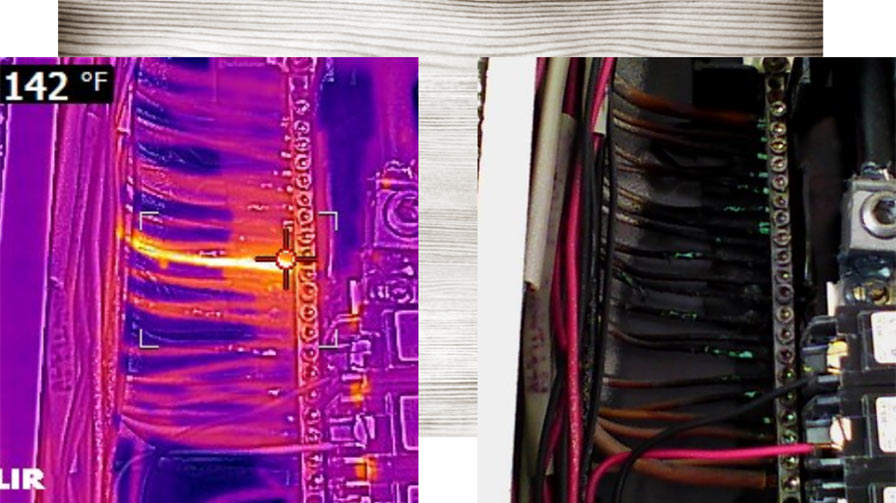 Circuit breakers in need of immediate replacement
Overloaded and undersized circuits
Overheated electrical equipment and components
Electrical faults before they cause a fire
Possible pest infestation, such as rats, mice and other larger pests
Any issues found are dependent on the conditions at the time of the inspection. Issues can occur after the inspection or may not be visible due to conditions present at the time of inspection.
Find even more hidden issues with our other advanced technology.
Fiberoptic Endoscope Inspection Cameras
You can't perform a proper sewer-line inspection or air–duct inspection without an endoscopic camera. Our advanced equipment can find even the hardest-to-spot problems, potentially saving you thousands of dollars in the process. We have fiberoptic color cameras that self–level, record, and show distance.
Endoscopic cameras can find:
Root intrusion
Crushed or damaged pipes
Leaks, uneven or "belly" conditions in pipes
Debris, clogs, and obstructions
Previously unknown or damaged/obstructed valves
Our mold-test inspection uses equipment that pulls air into a cartridge which is then sent to a lab to determine if elevated levels are present and what kinds of spores are present.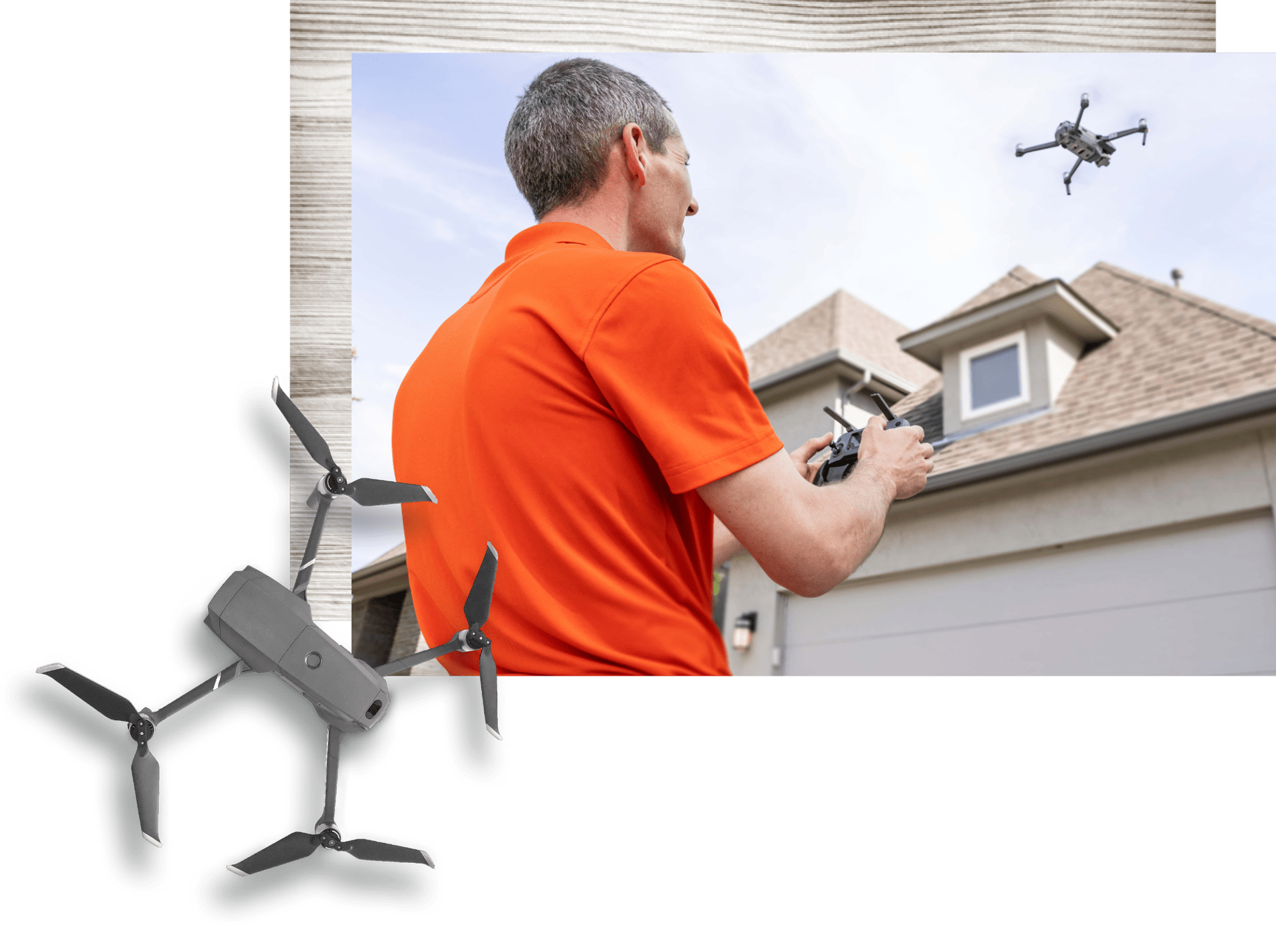 See the entire property in stunning detail. It flies up to 400 feet high to view multi-story roofs, yards, and properties in exquisite detail.
Examples the drone helped us catch.
Drone provided access to an otherwise too steep and unsafe roof due to height and loose shingles. Drone captured and documented defects that indicated a full roof replacement.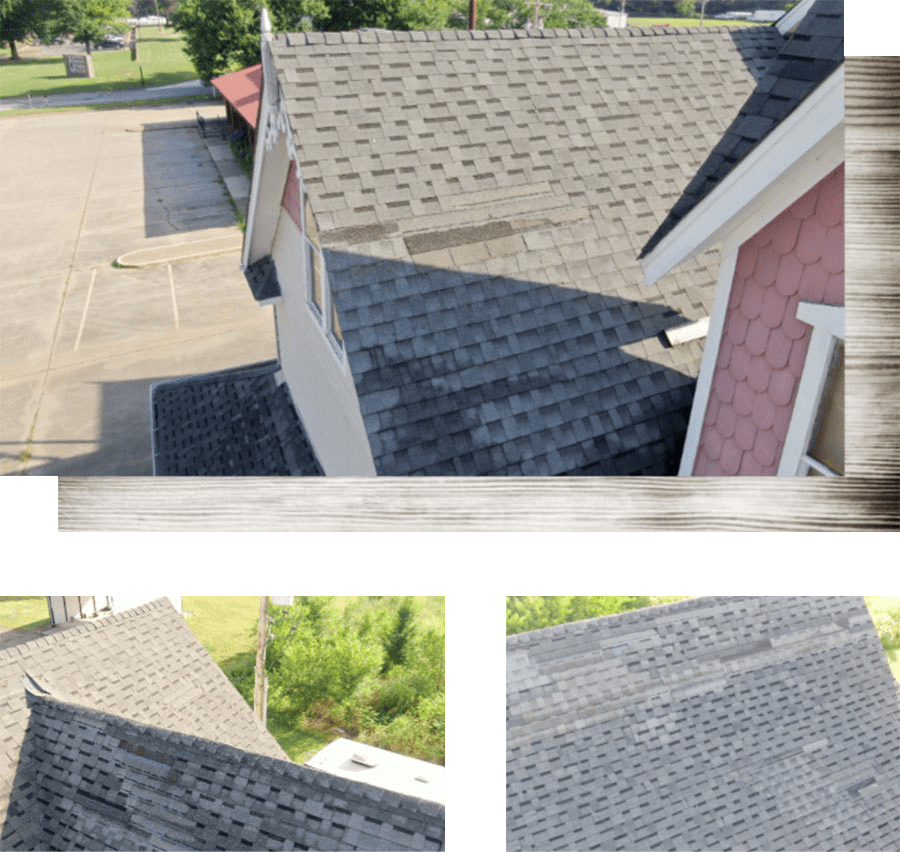 Drone provided access to an inaccessible roof that was unsafe due to height and pitch. Drone captured and documented significant hail damage and deterioration as well as deterioration and leaking at the pipe jack boots.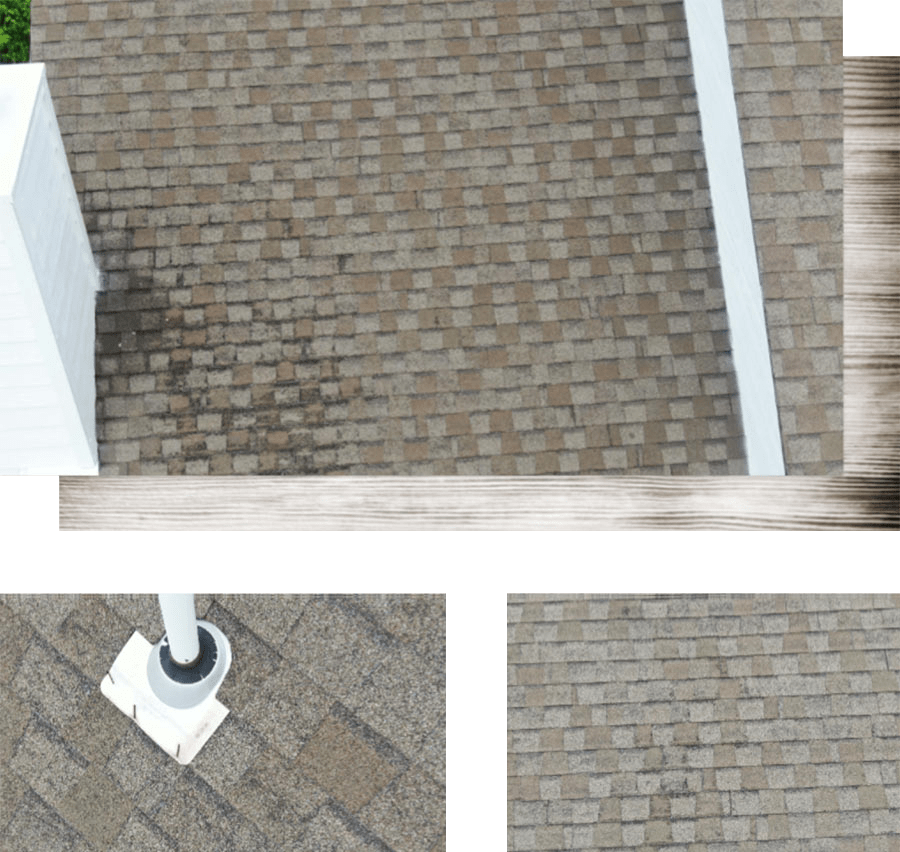 When it comes to your family's safety, never settle. Our fireplace inspection is done by a chimney sweep who uses a camera to inspect the flue parts which would otherwise not be visible. They also use gas detectors and carbon monoxide meters to make sure your fireplace flue isn't leaking, and that odorless, invisible, and deadly carbon monoxide isn't getting in the air your family breathes.
Electrical Meters & Tester
Our electrical meters check voltage, while the tester determines proper wiring of outlets.
We use two moisture meters: 1.) Pin-style to physically penetrate the surface to take a reading; and 2.) pinless style to measure moisture content down from the surface. We can detect moisture buildup inside walls and ceilings to determine if damage has occurred, or if it is likely to in the future.
We document the entire inspection process on our mobile devices, which allows us to provide you an electronic, same-day inspection report that's clear, comprehensive, and easy to understand.

General Home Inspection
Buying a home is one of the most important financial decisions you'll ever make. Make it with confidence. Before you buy, check with AHI.

Commercial Inspection
Your commercial or investment property should work for you, not the other way around. Don't let a commercial property turn into a profit-draining money pit. Let us take a look before you buy.

Builder-Warranty Inspection
Don't let your builder's warranty expire without an independent inspection. Schedule one at month 11 of your one-year warranty period. We'll identify concerns so repairs are on the builder's dime, not yours.

Pre-Sale Inspection
Don't let any 11th hour surprises get in the way of a sale. Before you go to market, schedule a pre-sale inspection so you can prevent surprises and get the best possible price for your property.

Annual Maintenance Inspection
Even if you're not buying or selling, scheduling an annual maintenance inspection is a smart investment for any property owner. Catch minor issues before they become major problems and protect your investment.

Other Inspection Services
Get extra confidence and peace of mind before you buy, with additional inspection services like structural, pool & spa, sewer line, sprinkler system and more.
See why customers love working with us.
Hundreds of buyers, sellers, Realtors and homeowners just like you trust AHI. Find out why.
Excellent company.
Cool technology, good prices, attention to detail, and he was willing to travel to do our home inspection.
Overall great experience.
How to prepare for an inspection
Have you scheduled your home or commercial inspection? Great! Here's how to be prepared, so your inspector can help you make the most informed decision possible.