If you're a real estate professional, we're here to help.
We're proud of the relationships we've formed and the reputation we've earned with real estate professionals around Tulsa and the surrounding areas. You have a tough job that doesn't follow a cozy, 9-to-5. We carry insurance and indemnify you up to $10,000 in referral protection when you recommend us. We're so confident in our inspections, we guarantee them too with 100% buy-back policy.
Here's what you get when you work with AHI.
We've worked hard to earn our reputation with Realtors and customers — and will work even harder to maintain it. Here's why Realtors appreciate working with AHI.
More Sales. Less Hassle.
Due to our detailed, comprehensive inspections the property can be priced closer to its value and defects caught early, speeding up the sale. When issues are reflected in the sales price, buyers have less objections and you have shorter listing times.

Reduced Risk and Liability.
We carry extensive insurance and you can easily select items for repair or attention.
Combine your buyer's finalized report findings and pictures with a few clicks to your TRR so it's clearly understood.
Access the Create Request List (CRL) from most devices with an internet connection.
Continuing Education Credits.
As an Oklahoma licensed real estate professional, you can earn up to 12 hours of free Continuing Education Credits approved by the Oklahoma Real Estate Commission.

Transparency. Credibility. Ease.
We perform extensive inspections using state-of-the-art technology within 2-3 hours, and provide highly detailed inspection reports that same day. We're also available to you and your customers to answer any questions you have.

We're proud to provide the cutting-edge Create Repair List™ (CRL™) system from HomeGauge. With CRL, the buyer, seller, and Realtor can communicate in real time about needed repairs from the same list. No out-of-date lists. No confusion. No long email chains. With CRL, everybody gets to access the same information at the same time.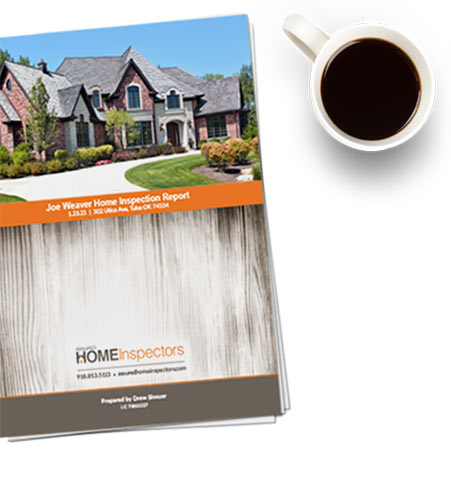 Give your clients the confidence of our 100% buy-back guarantee.
Do your clients need extra assurance before buying? Here's our guarantee — if we miss anything during an inspection, we will buy your client's home back for the full purchase price, and pay them up to $25,000 for any personal property damaged or lost.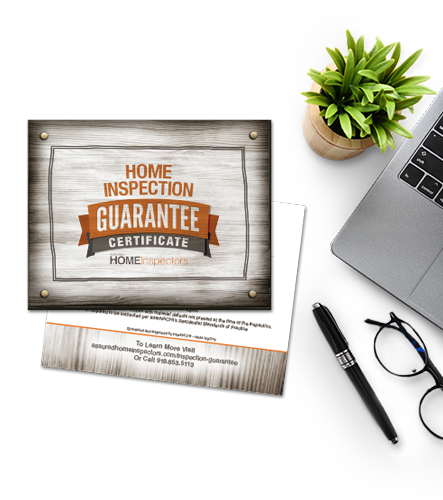 Each home or commercial inspection includes a Home Maintenance Manual free of charge.
We'll find any problems during the inspection, but a property that never has maintenance issues simply doesn't exist. To help our customers and to be good stewards of our community, we provide a free Home Maintenance Manual with every inspection.
Free resources for Realtors.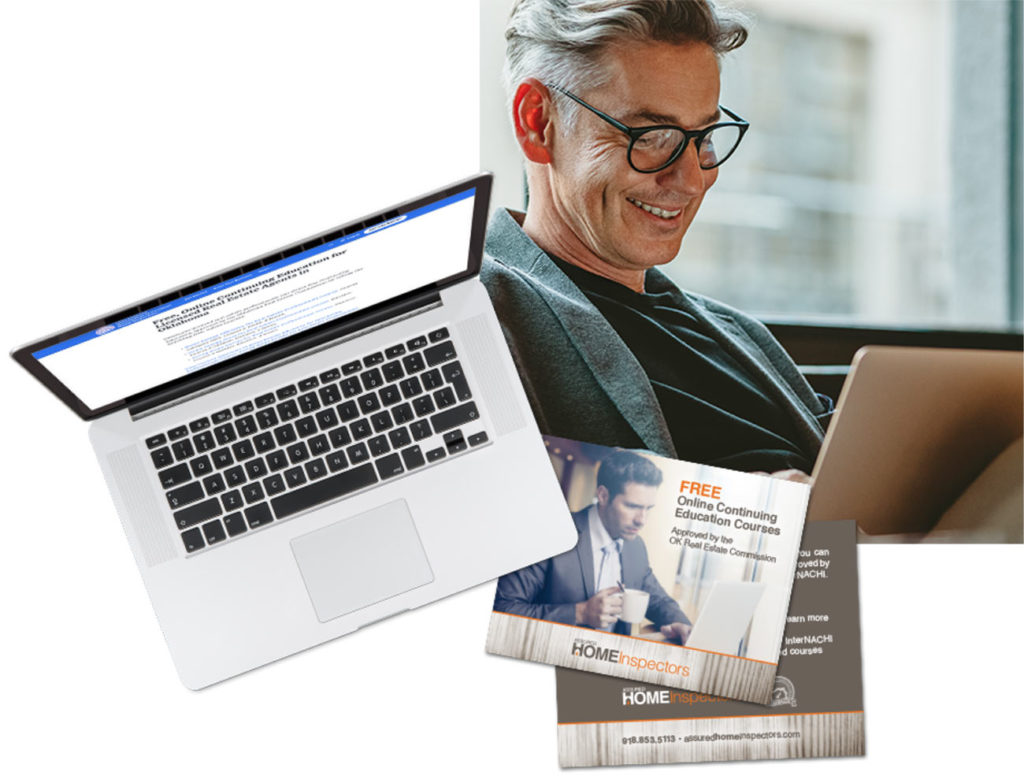 Earn 12 hours of Oklahoma Real Estate Commission-approved online continuing education.
In just 12 hours you'll understand: The value of Home Energy Inspections™ for current and prospective homeowners; how to help homeowners cut their energy use, reduce their carbon footprint, and increase their homes' comfort, health, and safety; and help homeowners make informed decisions about purchasing new HVAC equipment or improve existing equipment for more efficient operation.
Courses:
"Home Energy Efficiency for Real Estate Professionals" course for eight (8) continuing education clock hours. Course #: HOT 487.
"Home Energy Score for Real Estate Professionals" course for two (2) continuing education clock hours. Course #: GEN 010.
"Saving Home Energy for Real Estate Professionals" course for two (2) continuing education clock hours. Course #: GEN 011.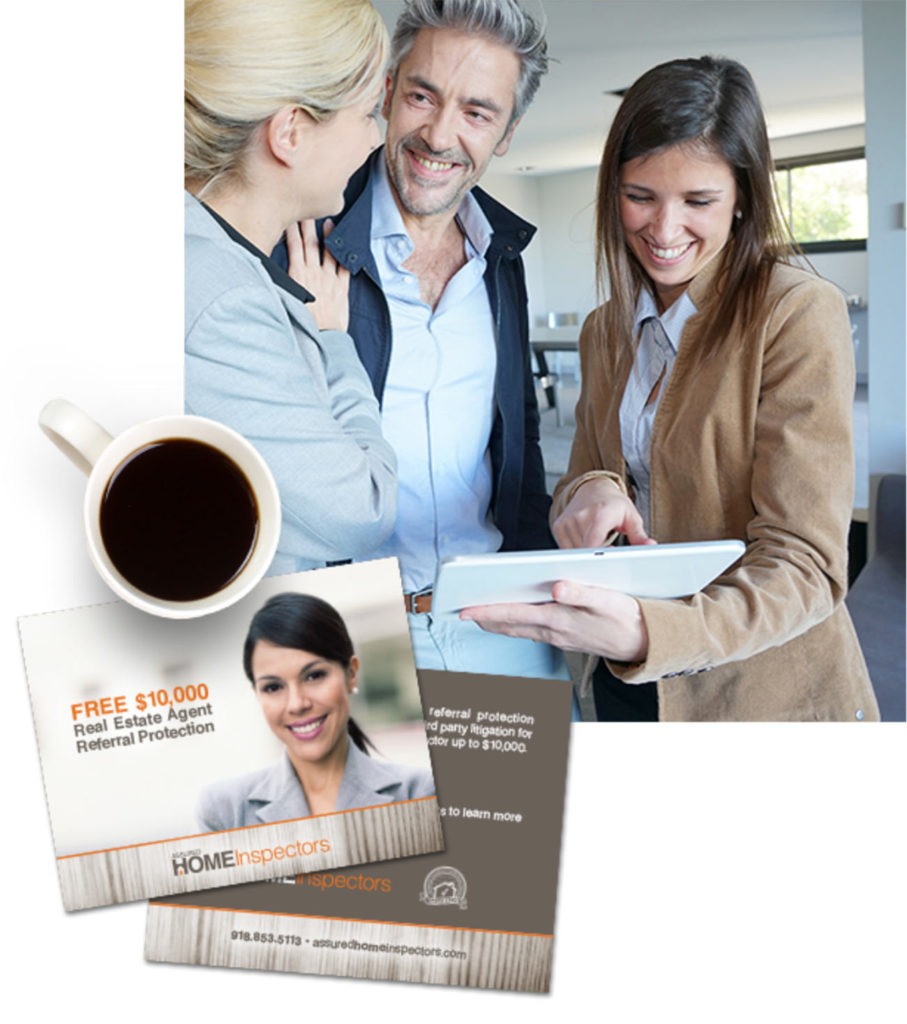 Get $10,000 in Referral Protection on us.
Protect yourself on us with our complimentary real estate agent referral protection plan. This indemnifies you against any successful third party litigation for negligent referral of an InterNACHI inspector up to $10,000.
The agent must be a licensed real estate agent or broker in the relevant jurisdiction at the time of the referral.
The referral must be made to an inspector who is a member in good standing of InterNACHI at the time of the referral.
The program is only available for residential inspections; it does not apply to inspections of commercial properties.
The InterNACHI member must have a written inspection agreement with the customer at the time of the inspection.
The agent is not required to refer potential customers only to InterNACHI inspectors. The agent may provide the names of more than one inspector, but the program will still apply if the potential customer selects an InterNACHI inspector as a result of the referral and the agent otherwise qualifies.
The agent must admit to having made the referral.
The agent must register for the program prior to making the referral. Agents may register here. After registering, the agent will be sent a registration-verification code which shows that he or she has registered.
By registering for the program, the agent (on behalf of himself, his heirs, successors and assigns, and on behalf of the company that employs the agent) represents and agrees as follows:

Agent is authorized by agent's employer to register for the program.
The exclusive venue for any litigation arising against InterNACHI or its officers as a result of the agent's participation in the program shall be in the County or District Court of Boulder County, Colorado. Agent and agent's employer must submit to the exercise of personal jurisdiction over them by those courts. In any such action, the parties waive trial by jury. If InterNACHI prevails in any such action, the agent shall pay InterNACHI's attorney's fees, expert witness fees, and costs. Colorado law will govern any such action.
There are no other promises or representations of InterNACHI that are not set forth here.
The terms of this program cannot be modified except in a written document signed by an authorized officer of InterNACHI.

The agent must promptly notify InterNACHI in writing when he or she first becomes aware that a person is claiming that the agent was negligent in referring the person to an InterNACHI inspector. The notice must include the name of the claimant and a summary of the relevant facts. The agent must send the notice by certified mail to InterNACHI, 1750 30th Street, Suite 301, Boulder, CO 80301.
The agent must provide InterNACHI with a certified copy of the judgment entered against the agent, which must be the result of a lawsuit against the agent for negligent referral to an InterNACHI inspector.
Upon receiving a certified copy of the judgment and satisfactory proof that the judgment resulted from an action against the agent for negligent referral to an InterNACHI inspector, InterNACHI will pay the agent the amount of the judgment up to $10,000, but only to the extent that the agent does not have insurance coverage to pay the judgment. The agent must provide all relevant insurance and other information to InterNACHI sufficient for InterNACHI to determine that the agent qualifies for payment.
The limit is $10,000 per incident. If the plaintiff sues and prevails against more than one agent and/or a company that employs or has a relationship with an agent, InterNACHI will pay only once. If a court enters judgment against more than one agent or against an agent and the agent's employer, InterNACHI will pay a prorated share of the $10,000 to each such person or entity.
The agent must use the money to pay the judgment.
What services do we provide?

General Home Inspection
Buying a home is one of the most important financial decisions you'll ever make. Make it with confidence. Before you buy, check with AHI.

Commercial Inspection
Your commercial or investment property should work for you, not the other way around. Don't let a commercial property turn into a profit-draining money pit. Let us take a look before you buy.

Builder-Warranty Inspection
Don't let your builder's warranty expire without an independent inspection. Schedule one at month 11 of your one-year warranty period. We'll identify concerns so repairs are on the builder's dime, not yours.

Pre-Sale Inspection
Don't let any 11th hour surprises get in the way of a sale. Before you go to market, schedule a pre-sale inspection so you can prevent surprises and get the best possible price for your property.

Annual Maintenance Inspection
Even if you're not buying or selling, scheduling an annual maintenance inspection is a smart investment for any property owner. Catch minor issues before they become major problems and protect your investment.

Other Inspection Services
Get extra confidence and peace of mind before you buy, with additional inspection services like structural, pool & spa, sewer line, sprinkler system and more.